Get a fresh start with screens this New Year!
A new year means a fresh start, and many of us use it for self-improvement. For teens and families, though, it's a good time to reconsider their screen use. Consider these five New Year's resolutions for your family this year.
1. Make The Dinner Table Tech-Free

This is a good resolution for families, because being distracted by your phone doesn't become any less of a problem for adults. Work emails, family members who need your opinion on something, and a host of other distractions can try to horn in on family time. So, partly to keep kids off their phone at dinner, and partly to make everyone set a few boundaries for their work and personal commitments, resolve that phones and tablets will stay off the dinner table.

2. Play Games Together

Many digital games aren't designed to be shared experiences, but playing games together can not only bond family members, they can help parents understand what their teens are doing in these games. Quite a few online games can seem fine on the outside, but become unsavory in any number of ways as you delve into them. And in some cases, games can serve as a de facto check-up; if your child is sending you rounds of Words With Friends when they're at school, you'll know something is up.
A good gaming device will be a great gift for both you and your children to have memorable moments together. Tablets have become popular because of their portability, easy-to-use interfaces and the wide range of functions they offer from. In some cases, it may replace laptops for reading to entertaining. Meanwhile, laptops for gaming with strong configuration can be used for a wider range of other functions such as studying, presentations, working on projects at school, etc. Whether you are looking for a gaming tablet for your children or a gaming laptop to play games together, you must make sure that you check its tech specs and reviews. It will help in making the decision which one will suit you the best.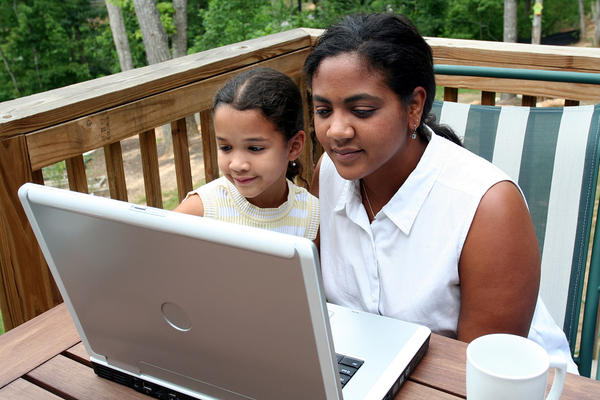 Sharing is caring when it comes to screens.

3. Learn From Your Teen

It can be overwhelming to get a full picture of just what your teen is doing on their phones without their help. Apps can be incomprehensible, especially if they're aimed squarely at teens instead of their parents, and may not reveal all their features to you unless you're a "power user" who's fully mastered the tool.

So resolve to spend some time together and have them show you how the apps they use work, who they're talking with over them, and what your kids are doing on these apps. It'll also open the door to more discussions about the internet and how to be safe on it.

4. Take One Tech-Free Day A Week

Increasingly, the world around us expects us to have smartphones. Teens, in particular, are practically ordered to be texting at all times. Encouraging teens to step away from screens one day a week will both build a healthy habit and force teens to step away from the social bubble of a given app and reevaluate whether they want it in their lives. Sometimes we can get so wrapped up in a social circle that we lose the forest for the trees.

5. Make The Most Out Of Their Current Tech

Finally, another smart habit to encourage is to not mindlessly seek the next new thing. Teens especially are put under pressure to buy new, and quite possibly useless, technology, and that can set the stage for struggles later in life. It's better to build impulse control now, to learn skepticism of the constant "must-buy" cycle of phones, and to get more out of the technology you already own, whether they're paying for it from their job or borrowing from the bank of Mom and Dad.

Need assistance keeping these New Year's resolutions? We can help. To see how, get our free trial!