Highlights
MMOGs can be a good way for families to spend time and play together during pandemic lockdowns.
MMOGs help build teamwork and problem-solving skills.
Some of the best MMOGs for families include Pirate 101, Wizard 101, Roblox, and DC Universe Online.
Are you stuck inside with your family because of pandemic lockdowns? This can be a great time to strengthen relationships and cement family unity if you go about it the right way. That means finding things that everyone can do together without being forced into it.
Game nights, for example, can be a great thing, but they may have changed since you were a kid. Your children may not be into a rousing game of Parcheesi or checkers. But you can meet them where they are by opting to play video games instead. Specifically, there are good reasons to consider family massively multiplayer online games (MMOGs), also called massively multiplayer online role-playing games (MMORPGs). Read on for more information about MMOGs and
What Are MMOGs?
MMOGs have been popular for some time now. Examples of popular MMOGs that you may have heard of include "World of Warcraft" and "Dungeons and Dragons Online" (adapted from the table game of the same name).
MMOGs are good for several reasons. They generally require players to team up with other players from all over the world, which can be a good lesson in collaboration and teamwork, something that's useful in school, in the workplace, and in life generally.
Teaming up with your family can give all family members a safe and relatively low-stakes way to learn how to work together. These games also require players to develop problem-solving skills.
Of course, not every MMOG is child-friendly or lends itself to family play. We've rounded up four games (or game sites) that offer safe family games that are also tons of fun.
Ahoy, matey! If you're looking for something fun and fast-paced that will keep kids aged 10 and up entertained, Pirate 101 might be the safe and fun option for your family.
Parents can choose a chat level for their children with a list of white-listed words, so you can keep the interaction with other players on the clean side. The game does feature combat, but think cartoon violence (like Road Runner and Wile E. Coyote, for example), not blood and guts.
Your kids will enjoy encountering flying pirate ships and strange beasts, searching for treasure, and even using magic. You can play along with them by fighting tough-boss battles and building stores of rare collectibles, honing your own gamer skills.
Available for Mac or PC families, Wizard 101 is a solid choice for parents of younger children as well as for families that enjoy collectible card games offline.
In the game, players create a Wizarding student that they control and use a card system to deploy attacks, rather than openly fighting monsters or each other. The game is simple enough for younger children to understand and enjoy and colorful enough to keep their attention.
Best of all, Wizard 101 bills itself as a kid-safe game, and parents are able to control many aspects of their child's account and how they interact with other game players. This feature allows kids to play with the family and also to play on their own and stay safe.
Families looking for a little more flexibility may appreciate Roblox. It's available on Mac, PC, Android, and iOS. Roblox is a name that you might be familiar with; it's a building game that predates Minecraft. While it may not have become the juggernaut that Minecraft has, it's been available and reasonably popular for over a decade and a half now, so it must be doing something right.
Unlike Minecraft, which combines building and survival, Roblox is a lot more about just the building. However, because the game's content is user-generated, kids can be exposed to almost anything. It's recommended for ages 13+, and you'll want to keep a close eye on your child's progress and make liberal use of the privacy settings to keep your kids safe.
If your family enjoys the collaborative and creative aspects of MMOGs but you would prefer less fighting and weapon play, Roblox may be right for you.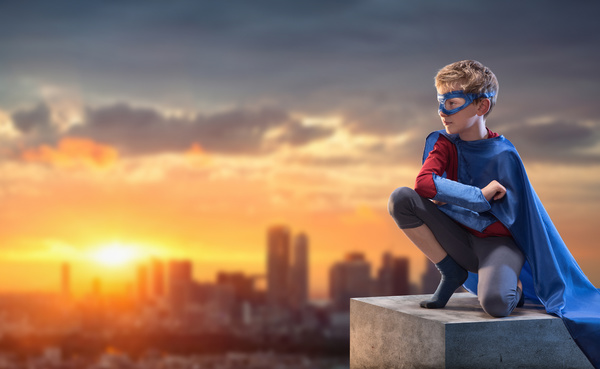 Exploring the DC Universe is a great way for teens to bond with their parents over common ground. The superheroes involved are old enough to be familiar to parents and newly dressed up and exciting enough to be interesting to their children as well.  
This game is recommended for ages 14 and up. It features the kind of violence that you might expect from a superhero franchise — there's no blood, but there's definitely fighting — as well as some characters and outfits that some parents consider overly sexualized. The text filters in the game are on by default, and players can report and block poor behavior. However, parents should still supervise to ensure that their children are using safety tools correctly.
Some players may feel disappointed at first that they don't get to be Batman or the Joker, or Superman or Wonder Woman. Instead, the game allows players to create their own hero or villain. You may not be an iconic character, but you can imbue your character with the attributes you choose. Want super speed? How about the power of flight? You can have them.
You can also make up your own looks for your character, so you really do get to use your creativity in this game. You can then pick one of the famous established characters as a mentor, so they do exist in your MMOG world.
DC Universe is also available on PC and on PlayStation 3 and 4 for families who prefer console gaming. It's a fast-paced game, which may appeal to more experienced gamers and those who typically choose something other than an MMOG.
Many parents spend time arguing or bargaining with their children about technology use, but gaming together is a way to bond over tech instead and can open the door to discussions about using technology responsibly and safely while enjoying it.
Parental monitoring software can help you ensure that even when you can't be with your children, you can keep an eye on what they're doing and make sure that they're using their devices safely and responsibly and complying with your rules. To find out more about WebWatcher parental monitoring software, get our free trial.