Highlights:
Drawing tablets are available for teen artists at any level, from beginner to professional.
Tablets can help encourage a hobby or prepare your teen for something bigger.
The right apps can help your teen experiment with different media and do more with their art.
NOTE: WebWatcher does not have relationships with any of the manufacturers whose products we list in this article. We conducted an online roundup of recommendations from independent reviewers and are simply passing on to you the models we found most often on best-of lists.
Today's teenage artists are living in an exciting time. Graphic art has taken off, and thanks to the internet, a career in art is more attainable than it has ever been. More art is shared, used, and sold digitally every day.
As exciting as digital art can be, for many artists, nothing really replaces drawing or painting on paper. With a drawing tablet or pen display, today's artists can have both.
Your teen can get the feeling of drawing with paper and pencil, but they can still explore the nearly unlimited possibilities digital art offers. For everyone from the budding artist just experimenting with the form to serious artists preparing portfolios for college, a drawing tablet can open doors to fascinating new worlds.
In this article, we'll look at some great drawing tablet and pen display choices whether your budding Picasso is a beginner, ready for something more advanced, or is already a serious artist.
Drawing Tablets vs. Pen Displays
First things first: A drawing tablet is not the same thing as the iPad or Samsung tablet your teen may already own. Drawing tablets are designed to do one thing and to do it well: create works of art. If you're looking for a tablet that will also stream movies or serve as an e-reader, a drawing tablet isn't what you need.
That said, a good-quality tablet will function as a drawing tablet when a drawing app is installed. However, most users prefer the real pen-and-paper feel of a specially designed drawing tablet or pen display, and all but the highest-cost drawing tablets are less expensive than most good all-purpose tablets.
That said, here's what a drawing tablet or pen display can do: Your teen will be able to draw, paint, or edit photos with their tablet, and the best models are designed to mimic the feel of pen on paper. They work in one of two ways:
1. Drawing tablets: These less-expensive tablet models connect to a computer or tablet. The user draws on the tablet, and what they create on the tablet shows on their monitor in full color. Drawing tablets are generally less expensive than pen displays, but they're available in some fairly high-end models, too.
2. Pen displays: More advanced tablets have monitors built in and are called pen displays, so the user is creating directly on the tablet's screen. These come in sizes from fairly small (16″) to as large as 32 inches and are what most professionals use.
There are a slew of drawing tablets on the market, and it can be tough to choose the right one. Here are a few that we recommend, based on the level of your teen's interest.
For the Beginner: The Wacom Intuos
The Wacom Intuos (formerly the Wacon Intuos S) is a drawing tablet (no screen) that's an excellent choice for those young artists who are just starting out. The tablet surface has a dot grid, which doesn't show up on the screen but helps with drawing straight lines.
The texture of the drawing surface feels a lot like drawing on real paper, so kids who are used to doodling on their notebooks will feel right at home.
The sensitivity of the tablet is enough to give the user control, but not so much that it's oversensitive, which makes getting the hang of it easier for new users. The Intuos is a wireless tablet with Bluetooth functionality. The price is around $80.00.
For the Intermediate Artist: The XP-Pen Artist 15.6 Pro
If your teen is beyond a beginner and art is a serious hobby for them, this pen display model would be a better pick.
The XP-Pen Artist 15.6 Pro Graphics Display is recommended as the best choice for most people by Spy.com. It's an affordable choice, but it comes with features that make it an obvious upgrade over beginner options.
The Artist 15.6 Pro has a display with a 178-degree viewing angle and the ability to tilt up to 60 degrees to function as an easel. It also has a dial that provides the artist with greater accuracy and control over their work and eight customizable short-cut keys. It's priced at $289.00.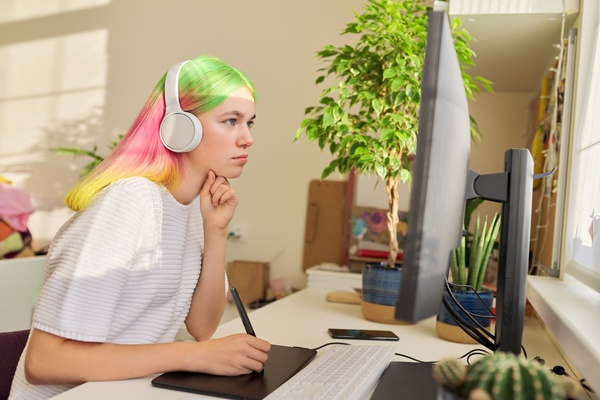 For the Serious Artist: Two Options
In our research, two models seem to be recommended by testers most often for the serious artist. Coincidentally, both are Wacom products. One is a drawing tablet, and the other is a splurge choice with a large display.
The Wacom Intuos Pro: The Wacom Intuos Pro comes in three sizes and should satisfy most serious artists (and many professionals). This model is a pen tablet, meaning it doesn't have a display of its own and needs to be connected to a computer or tablet.
It has some pretty great features, though, like touch screen functionality for zooming and scrolling, an extremely responsive pen (with 8,192 pressure settings and tilt recognition), a control dial, and eight customizable shortcut keys (six on the small model).
The Intuos Pro connects with either USB or Bluetooth. Prices are $250.00 for the small (10.6 inches), $380.00 for the medium (13.2 inches), and $500.00 for the large (16.8 inches).
The Wacom Cintiq 22: If your teen would prefer a pen display model and you're willing to splurge, you may want to consider the Wacom Cintiq 22. This tablet features a vibrant 22″ HD anti-glare and scratch-resistant display. It uses the same super-responsive pen as the Intuos Pro. It also features an adjustable stand that allows you to tilt the screen from 16 to 82 degrees.
The Cintiq 22 is just a step away from Wacom's Cintiq Pro line, which is considered by many to be the premier professional-grade pen displays. The Cintiq 22, however, is far more affordable at $1,200.00.
WebWatcher Has Your Back
At WebWatcher, we want to help you guide your children toward better digital decisions. The internet is a rich resource for educational content, wholesome entertainment, and family fun, and we'll help you find them. But we also know that unhealthy content and too much screen time can be harmful to kids.
Our goal is to help families find the digital sweet spot — the right balance of screen time and time spent doing other healthy activities, like exploring the outdoors. We offer parental monitoring software to help families find that balance because we know that busy parents can often use a helping hand.
To learn more about ways to encourage your child's healthy exploration of all the internet has to offer, follow our blog. To learn more about how WebWatcher can help them make good digital decisions, take advantage of our free trial offer.