Simulation games can be fun and absorbing, but parents might object to the content.
When it comes to your teen's smartphone, it can be tough to keep up with what your kids are doing. There are new apps arriving in the app stores all the time, and just when you've learned all about the latest new app that your teen and all of their friends are using, there's a new one and they're not using the old one anymore. 
So how is a parent to know which apps are safe for their kids to be using and which ones pose risks? Take a look at some of the latest apps that parents need to be aware of and what kinds of dangers they pose to your kids.
1. BitLife
If you're familiar with the Sims games, that might give you an idea of what BitLife is all about. It's a simulation game in which players are assigned a profile to play from infancy through until death. Players choose what to do with their time, how to spend money, and when and how to form relationships with other people.
The relationships in BitLife are between players and pretend profiles that aren't linked to real people, which is a plus, but the choices that players have the option to make are mature choices – as the character grows, they can choose to gamble, smoke, drink alcohol, do drugs, and have sex with pretend profiles.
Some parents may see this as a healthy outlet for normal teen experimentation – if your teen is happy with trying drugs in a simulation, maybe they won't feel the need to try it in real life. Others, however, may be concerned that the simulation will encourage their kids to try the behavior for real. And for younger teens and pre-teens, parents may be worried about the exposure to risky behaviors in the game.
2. Blendr
Blendr is a social app that allows users to share photos and videos, send messages, and rate each other on "hotness". The rating system is an obvious problem – many teens struggle with self-esteem and body image as it is, and this kind of shallow, looks-based comparison can only contribute to those types of issues.
What's more, Blendr has no age restrictions. While it's an app largely aimed at teenagers, there's no system in place to stop adults from making accounts and using the app, so some of the people that your teen is sharing photos and videos with and receiving messages from could be adults.
3. Holla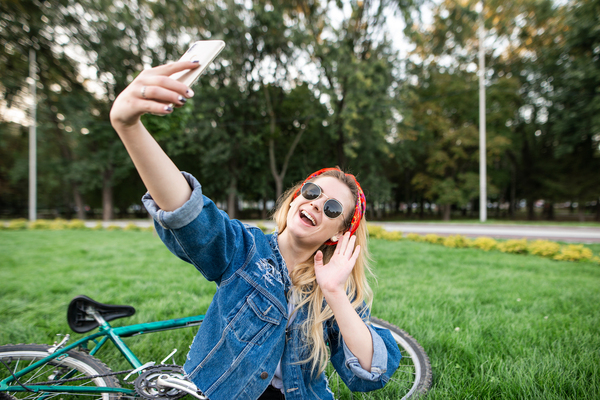 Video chatting with strangers can be dangerous, especially when your location is public.
Holla is a Tindr-style app, except with video chatting instead of photos. Users can be instantly connected with a stranger or swipe until they find someone they like and who likes them and match up that way. Either way, the end result is being matched up with a stranger to video chat. Plus, the site uses location information to pair users who are geographically close to each other.
Video chatting can be risky for kids and teenagers. Holla supposedly bans nudity and other types of explicit or inappropriate content, but the reviews of the site indicate that these types of occurrences happen anyway. And when combined with the use of users' location information, it's just not worth the risk.
On top of that, testers have found that users as young as 13 can be matched with users as old as 16 or 17, so the app isn't necessarily even a safe way for users to find others in their own age range.
4. Socratic Math & Homework Help
This app is ostensibly to help kids with their homework. When used the right way, educational apps aimed at helping kids and teens improve their school skills can be a good thing. But in other cases, these apps can be a crutch that inhibits learning.
The way this app works is that the user takes a picture of the question or problem and uploads it to the app. In return, they get an answer and an explanation of the answer. There are two issues here. One is that the app makes it easy to cheat. In theory, a student could use it to get an example of how a set of problems is intended to be solved and then do the rest of the work on their own, but there's nothing to stop them from running every problem through the site, losing valuable learning opportunities.
The other problem is where the answers come from: they're sourced from the internet, and they aren't always correct. This means that even a student who's trying to use the app to get an idea of how to do the work correctly themselves might be led off-track, and it's often more difficult to unlearn a concept that's been learned incorrectly than it is to simply learn it correctly the first time.
5. Houseparty
Houseparty is another video chatting app. Users can communicate one-on-one or in group chats – hence, the "party" aspect of the app. And while users may start by connecting with people they know, just like at any party, they're eventually going to end up meeting some strangers.
The biggest problem is that there's no screening at all – the app doesn't even make an attempt to filter inappropriate content. That means that your teen could end up seeing – or sharing – almost anything in a video chat. Teens sometimes don't realize the consequences of viewing and sharing explicit or inappropriate content online, so parents need to be vigilant about apps that allow that kind of content.
6. Lipsi
Lipsi is an app that allows users to leave anonymous feedback for other users. Users can also link Lipsi to their Instagram profiles, which allows the feedback they receive to appear publicly where their Instagram followers can see it.
Anonymous feedback apps like Lipsi invite bullying and trolling. Positive feedback is nice when it appears, but it may not be worth receiving negative comments on one's appearance or being told to kill oneself, which are both things that have happened with this app.
And with Lipsi, those comments may show up on the user's public Instagram feed, increasing the humiliation factor. Lipsi is supposed to be age-restricted to users 17 and over, but there's nothing in place to stop a younger child from downloading the app.
Keeping your child or teen safe online requires vigilance. Parental monitoring software like Webwatcher can help you keep track of what apps your child is downloading so you can make an informed decision about whether the apps they want are safe and healthy for them to use. To find out how it works, get our risk free trial.